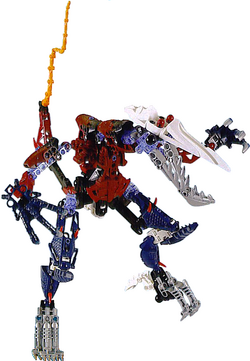 The Zyglak are the evil group of reptilian race who served as villains in Bionicle. They a once accidentally created by the Great Beings in the past out of the remains of the process that brought the first Matoran villagers to life. 
Trivia
In the "The Kingdom," the Zyglak refused to evacuate when the Great Spirit Mata Nui died and were evntually extinct.
Zyglak are often called "The Great Beings' Mistakes."
Zyglak also appeared to have the same characteristics with the Xenomorphs from the Aliens series.

Both have the hatred towards the other living beings.
Both seeks to spread their population across the universe.
Both were responsible for killing a lot of living beings.