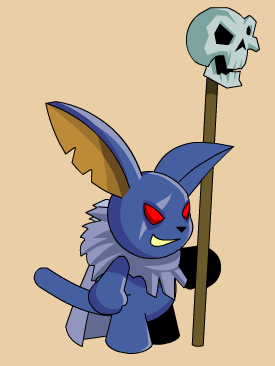 Zorbak is The CEO of EbilCorp and one of Adventure Quest's most prominent and popular recurring antagonists and although fairly cute in appearance and comical in mannerism he is actually a fairly substantial threat to the settings he appears in: though he is described as "ebil" rather than "evil" - this is a running joke, Zorbak is a corrupted necromancer of moglin heritage and thus appears as a short fox-like humanoid but has vast mystical powers over the undead.
Zorbak has a rivalry with Twilly, a benevolent moglin (as well as a mascot of sorts to Adventure Quest) - the two often fight one another but neither are able to defeat one another permanently.
Although Zorbak is also antagonistic he is also a questgiver and will work with player characters, though he can prove to be a troublesome "ally" at best.