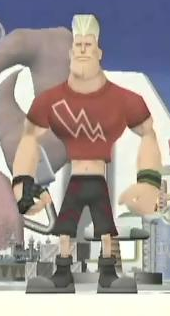 Zook is a minor character that appears in Pokémon XD: Gale of Darkness. He is the only character in the games to be known as a Thug. He appears at the start of the game at Gateon Port; after Jovi, Michael's sister, ran into him, he began to threaten her with his Shadow Zangoose. However, Mr. Verich, Eldes & Ardos appeared and Ardos defeats Zook's Zangoose with his Alakazam.
Later, Michael reconfronted Zook at the Cipher Key Lair—despite not having his Snag Machine, he beat him. He later rechallenged him after getting his machine back, only to win again. Zook then ran off to "someplace far away" where "Cipher has no influence" to escape punishment by Gorigan.
Zook's Pokémon
Ad blocker interference detected!
Wikia is a free-to-use site that makes money from advertising. We have a modified experience for viewers using ad blockers

Wikia is not accessible if you've made further modifications. Remove the custom ad blocker rule(s) and the page will load as expected.