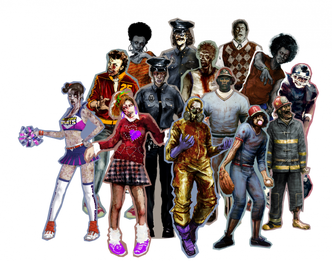 Zombies
are hostle enemies in the video game;
Lollipop Chainsaw
. They were humans that were infected by the gases in
Rotten World
. Unlike the zombies in most video games; these Zombies can talk, and some zombies are
intelligent
.
Type of Zombies
Jock Zombies
Fire Fighting Zombies
Workout Room Zombies
Known Zombies
In the game, there are multiple zombies that are far stronger than the regular zombies. These are the mini-bosses.
Alexander
Anastasia
Bill
Brett
Chat
Christina
Danielle
David
George
Hazmat
Jack
Jay
Jerry
Josephine
Juan
Lucid
Marie
Mark
Mikaela
Mr. Fitzgibbon
Paul
Peter
Roberta
Ryu
Samantha
Stephanie
Steven
Tobe
Uwe
Wesley
Intelligent Zombies
Zombie of Zombies
Ad blocker interference detected!
Wikia is a free-to-use site that makes money from advertising. We have a modified experience for viewers using ad blockers

Wikia is not accessible if you've made further modifications. Remove the custom ad blocker rule(s) and the page will load as expected.