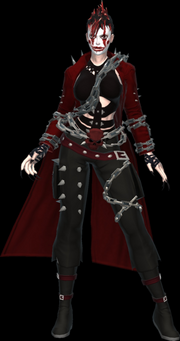 "Join the Maniacs - you don't have to be crazy.. but it helps! HA HA HA!"
~ Zoe Loft
Zoe Loft is one of the leading figures in the Maniacs gang, an enemy faction of Champions Online - she is psychopathic woman with a hatred of all things ordered and seems to geniunely revel in sociopathic behavior and attitudes.
Zoe Loft is confronted by heroes underground when she and the Maniacs start a large recruitment drive geared towards bringing Rioting Prisoners into the Maniacs - the heroes break up this recruitment drive and battle the crazed Zoe Loft in order to prevent the Maniacs gaining more power than they already have.
Zoe Loft was likely inspired by Harely Quinn as well as the Dark Knight version of Joker - at least in her current design.
Ad blocker interference detected!
Wikia is a free-to-use site that makes money from advertising. We have a modified experience for viewers using ad blockers

Wikia is not accessible if you've made further modifications. Remove the custom ad blocker rule(s) and the page will load as expected.