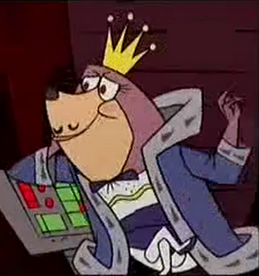 Zizrar the Mole King (voiced by Scott McNeil) is the King of the Mole People who lives underground and often attempts to take over the world. He first appeared in Johnny to the Center of the Earth. He has also appeared in Johnny's Big Snow Job, Johnny X: A New Beginning, Johnny X: The Final Ending, X-Ray Johnny, Johnny Susan Susan Johnny, Johnny Irresistible, and Johnny's World Prank Wars I.
His failure is usually due to his intense aversion to sunlight. He is the first villain Johnny ever defeated, but he does not make very many appearances (Bling-Bling Boy, who appeared in that episode as a reluctant hero, is the most common villain). He later became The Bee Keeper's replacement on the Johnny Stopping Evil Force 5 after Doc Beebles quit the force.
Trivia
He wasn't seen in Season 2 and 6.
Ad blocker interference detected!
Wikia is a free-to-use site that makes money from advertising. We have a modified experience for viewers using ad blockers

Wikia is not accessible if you've made further modifications. Remove the custom ad blocker rule(s) and the page will load as expected.