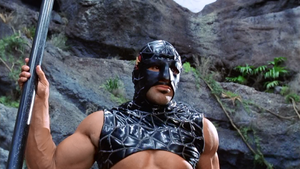 Zarkos is a supporting antagonist in the first live action Scooby-Doo film. He was one of Scrappy-Doo's henchmen.
Appearance
He is a very muscular man, with blue eyes. He wears a wrestling costume, consisting of shorts, a belt, and a mask covering most of his face. His muscular physical appearance makes him very attractive yet also intimidating at the same time which adds to his attractiveness
Personality
He can be cocky about his physical strength & dominance over most people at times.
History
Scooby-Doo (film)
He captured Daphne and removed her protoplasm from her body and a demon possesses her.
During the final battle he fought and lost against Daphne Blake.
Gallery