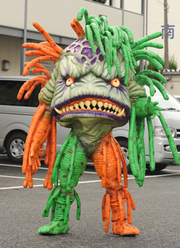 Zakyura is one of pace Empire Zangyack's Action Commanders.
Biography
He is an Action Commander sent to eat up all of Earth's food. While in his mission on the Earth, he ingesting Gai's GokaiCellular in the process. However, after regaining his item, Gai and the others assume the form of the Dairangers and weaken Zakyura before he is blasted by the Gokai Galleon Buster. Enlarged, Zakyura tries to eat Fūraimaru and his clones to cancel Hurricane GokaiOh's finishing move, only to be destroyed from the inside out.
Ad blocker interference detected!
Wikia is a free-to-use site that makes money from advertising. We have a modified experience for viewers using ad blockers

Wikia is not accessible if you've made further modifications. Remove the custom ad blocker rule(s) and the page will load as expected.