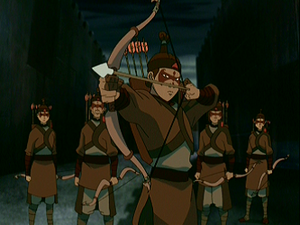 The Yuyan Archers are a group of elite and skilled archers that served the Fire Nation and are villains in Avatar: The Last Airbender.
They served as guards at first despite their advanced abilities. When Zhao was promoted to admiral, he sent the archers to capture the Avatar. Their mission was a success and Aang was in the custody of Zhao. Aang was fortunately freed by the Blue Spirit. They later fought the soldiers and escaped Zhao's fortress. Zhao ordered one of the archers to shoot the Blue Spirit.
Ad blocker interference detected!
Wikia is a free-to-use site that makes money from advertising. We have a modified experience for viewers using ad blockers

Wikia is not accessible if you've made further modifications. Remove the custom ad blocker rule(s) and the page will load as expected.