Ad blocker interference detected!
Wikia is a free-to-use site that makes money from advertising. We have a modified experience for viewers using ad blockers

Wikia is not accessible if you've made further modifications. Remove the custom ad blocker rule(s) and the page will load as expected.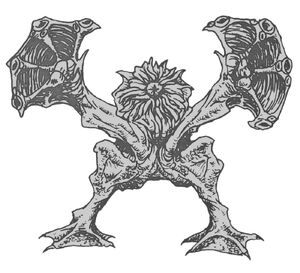 Ythogtha
is the second son of  one of the
Great Old Ones
 known as
Cthulhu
, and he first appeared in
The Xothic Legend Cycle
(also known as
The Xothic Legend Cycle: The Complete Mythos Fiction of Lin Carter
) series of short horror stories by Lin Carter based on the Cthulhu Mythos of H. P. Lovecraft, primarily on Lovecraft's stories
The Call of Cthulhu
and
Out of the Aeons
.
He resembles a gigantic, humanoid frog, or a Deep One, with only a single, huge eye in the center of his forehead like a cyclops. A dense mane and a beard of writhing tentacles grows from his head. Although never fully described in Lin Carter's own stories, Ythogtha is incredibly large; when the sorcerer-priest Zanthu attempts to free Ythogtha from his prison, he mistakes his god's clawed, slimy fingertips for mountainous heads.
The Elder Gods imprisoned Ythogtha in the Abyss of Yhe. He is served by the planarian-like yuggs and their lord, Ubb, The Father of Worms. Ythogtha's legend is chronicled in the Zanthu Tablets.