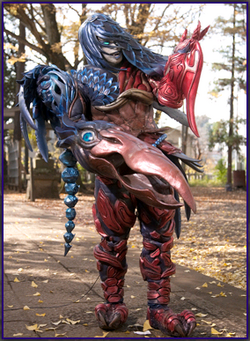 Yomotsugari is an Ayakashi summoned by Shitari for the task of killing the eighteenth head of the Shiba House: Takeru. To achieve that, she receives the Onibidama , Onibi Bullets, created from the Sanzu River's Onibi which will cause the Fire Mojikara of its target to be consumed in flames.
After being slain by Super Shinken Red, she is destroyed by the Shishi Origami when it is piloted by Kaoru Shiba, the true eighteenth head of the Shiba House. Her appearance is the basis of the Onmoraki (in Japanese: 陰摩羅鬼) of Japanese myth.
See also
Fiera, her Nighlok counterpart from Power Rangers Super Samurai.
Ad blocker interference detected!
Wikia is a free-to-use site that makes money from advertising. We have a modified experience for viewers using ad blockers

Wikia is not accessible if you've made further modifications. Remove the custom ad blocker rule(s) and the page will load as expected.