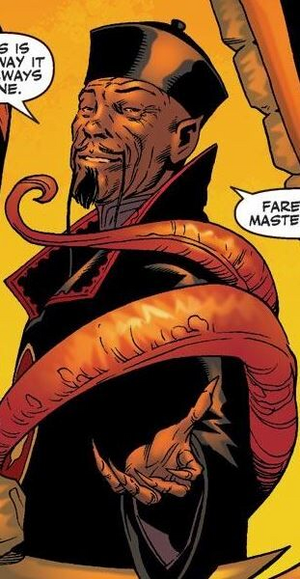 The criminal mastermind known as the Yellow Claw was born over 150 years ago in mainland China.
A genius in biochemistry, the Yellow Claw has formulated elixirs that have prolonged his life span, enabling him to retain his physical vitality over the century and a half of his existence.
For decades the Yellow Claw has dedicated himself to achieving world domination and supplanting western civilization with his own "new older" ruled by himself and his heirs.
Although his native China has undergone a Communist revolution, the Yellow Claw retains many of the ways of imperial China. In the 1950s the Yellow Claw made an agreement with General Sung and other Communist Chinese leaders whereby the Yellow Claw would undertake to destroy the western democracies and conquer the United States and the rest of the western world on behalf of Communist China.
In fact, the Yellow Claw only pretended to serve the Communist Chinese hierarchy, and intended to conquer the world for himself. However, his feigned alliance with the masters of the People's Republic of China proved beneficial to him for decades.
Gallery