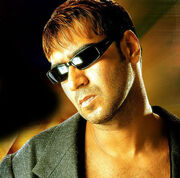 Yashwant Angre is the main antagonist of Khakee (2004 film). He is a ruthless murderer and former police officer. He is played by Ajay Devgan.
Backstory
Angre was once a corrupt Police Inspector.  This was evident when he murdered five innocent men, claiming that they had robbed a bank and shot at him when he attempted to arrest them. As a result, DCP Anant Shrivastav had him removed from the police force and sent to jail. Some time later, Angre broke out of jail with only one motive: revenge. 
In the film
Angre is first seen in the house of his friend, a photographer. When he learns that his friend attempted to betray him, he blows up the house killing the photographer and his family.
When the police team arrive in Chandigarh along with a suspected terrorist named Iqbal Ansari, Angre and his men go to any lengths to prevent them from reaching their destination. Angre constantly makes threatening phone calls to DCP Anant Shrivastav (his former superior in the police force) gloating about how he and his team can easilly reach Ansari. It is soon revealed that Ansari is in fact not a terrorist and that Angre and his team wish to kill him.