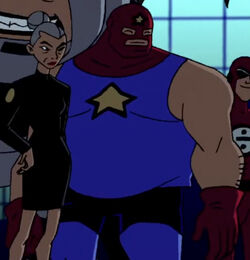 Wrestling Star is a villain in the Teen Titan series and a tough wrestler.
History
He is a professional wrestler and a student at the H.I.V.E. Academy. The academy was destroyed by the Teen Titans. Some time later, he joined the Brotherhood and fought the Titans. His mask was removed and he was frozen in the final battle.
Powers and Abilities
Star has super strength and is knowledgeable about wrestling. He also has super durability and resistance.
Ad blocker interference detected!
Wikia is a free-to-use site that makes money from advertising. We have a modified experience for viewers using ad blockers

Wikia is not accessible if you've made further modifications. Remove the custom ad blocker rule(s) and the page will load as expected.