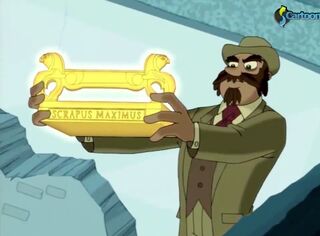 Worthington Dubois is the main antagonist of the Phineas & Ferb episode, Tri-State Treasure: Boot of Secrets.
History
According to Lawrence Fletcher, Worthington is his antique nemesis. Both of them have been seeking a legendary Boot Scraper, the Scrapus Maximus. However it was later revealed that this was a movie that Phineas and Ferb were making, and that Buford and Baljeet were disguised as the villain.
Trivia
Worthington Dubois is voiced by Tim Curry, who also provided the voices of Lloyd Wexler, and Stubbings the Butler.
It's unknown if Worthington Dubois is a real person and is Lawrence's Antique Rival, or if it was all made up.