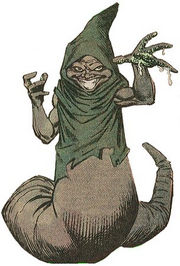 Worm
is a villain from Marvel comics who first appeared in
X-Men
Vol.1 250.
Nothing is known about the past experiences of Worm. He was mutated in a fashion similar to the other Savage Land Mutates. The mutation was caused by a device created by the mutant known as Magneto, giving him superhuman powers and altering his appearance substantially somehow. He then joined with other similarly mutated super beings under their leader, Zaladane.
Ad blocker interference detected!
Wikia is a free-to-use site that makes money from advertising. We have a modified experience for viewers using ad blockers

Wikia is not accessible if you've made further modifications. Remove the custom ad blocker rule(s) and the page will load as expected.