✔
| | |
| --- | --- |
| | This Article Contains Spoilers - WARNING: This article contains major spoilers. If you do not wish to know vital information on plot / character elements in a story, you may not wish to read beyond this warning: We hold no responsibility for any negative effects these facts may have on your enjoyment of said media should you continue. That is all. |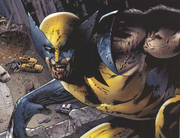 In the zombified alternative Marvel universe known as Marvel Zombies, also known as Earth-2149, Wolverine is one of the many zombified heroes. At the Xavier Institute, he and the other X-Men members are fighting the zombified Alpha Flight. Wolverine was part of a team that had the right to return to the surface in order to halt the zombie threat, however he ended up becoming infected with the zombie virus. 40 years later after he and the others ate Galactus, Wolverine gained a modified right arm. He and the others went back to Earth, specifically in Wakanda, where the Black Panther lived. He, Giant-Man, Iron Man, Dark Phoenix, and Firelord went to the Baxter Building, the home of the Fantastic Four. After they've destroyed the guard robots, Wolverine and the others go back to Wakanda and continue the malicious brawl. After Iron Man tells him that the zombie virus is gone, he lets a victim he attempted to kill go and became good again. Malcom Cortez transported Wolverine and the other living zombified heroes to Earth-Z, telling Forge that the zombies are someone else's problem for now.
Ad blocker interference detected!
Wikia is a free-to-use site that makes money from advertising. We have a modified experience for viewers using ad blockers

Wikia is not accessible if you've made further modifications. Remove the custom ad blocker rule(s) and the page will load as expected.