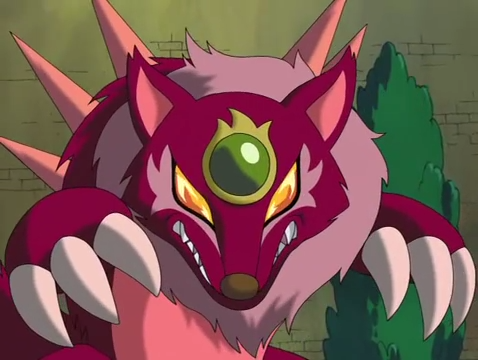 | | | |
| --- | --- | --- |
| " | Don't sweat it, Triple D. That monster can wipe out a whole army of Star Warriors. | " |
| | ~ Customer Service | |
WolfWrath (also known as Chili Dog in Japanese) is a monster owned by Nightmare Enterprises, and is ordered by King Dedede from Customer Service and an antagonist in the anime TV series, Kirby: Right Back At Ya! episode, "Hour of the WolfWrath".
Appearance
WolfWrath is a fuchsia wolf with gold eyes with lavender markings under them. He has a glowing green gem encrusted on his forehead, a brown nose, pointy ears, and a lavender mane. He also has six large pink spikes protruding out of his back and thick, sharp claws. He is mainly quadrupedal, but has shown to be able to walk upright like a human. Electricity is also shown to course through his spikes on his back as well.
Powers and Weaknesses
Wolfwrath is one of the most powerful and viscous monsters Lord Nightmare has ever created. It has awesome strength and speed, able to duel the master swordsman Meta Knight in close combat on equal terms. Wolfwrath's signature ability is shooting destructive fireballs from it's mouth, and has heat vision. It's teeth are capable of paralyzing it's opponents when lodged into them, and they won't dissipate unless the beast is slain.
Being a fire monster, it has to constantly feed on fire to re-energize itself, and it's natural weakness is water.
History
WolfWrath is one of the most powerful monsters N.M.E. ever has, although even Customer Service admits that he doesn't take orders very well. Wolfwrath immediately flees just after being ordered by King Dedede, forcing him to block off all the castle entrances and exits. The monster runs all around the castle grounds and found Kirby, attacking him with a barrage of fire. Meta Knight intervenes while Sword and Blade whisk Kirby and the others to safety.
It is revealed that Meta Knight had a duel with the beast in the past, and has a longstanding rivalry with Wolfwrath long before Dedede ordered him. WolfWrath ends up beating Meta Knight and paralyzing him, leaving up to Sword and Blade to defeat the big, bad wolf. Seeing that WolfWrath is on a rampage, destroying the castle, setting it ablaze, Dedede has a change of heart and wants him driven out of the castle. Sword and Blade engage WolfWrath to a battle again, knowing that WolfWrath is weak against water. Wolfwrath was driven towards a lake outside the castle and is defenseless for the time being. Thanks to the duo's thinking, Kirby became Galaxia Kirby (a upgraded version of Sword Kirby) and sliced the scarred and weakened Wolfwrath in half, instantly slaying him. Meta Knight recovers from his paralysis after WolfWrath's defeat and everyone celebrates.