Witch Hazel
Talk

0
34,836pages on
this wiki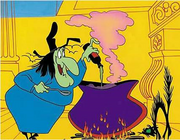 Witch Hazel
is a recurring villain in Looney Tunes, and as her name suggests, is a stereotypical witch - complete with green skin, warts and pointy hat: though she is an adept sorceress capable of changing her form, amongst other things.
Witch Hazel is not as malevolent as some witches but has been known to attempt such things as eating children (Hansel and Gretel) plus Bugs Bunny - for a while Witch Hazel was the subject of some controversy due to the fact Disney had originally had a witch named the same - however, Warner Bros soon dismissed accusations of plagiarism, since Witch Hazel is also a type of herb and thus could not be copyrighted.
Witch Hazel has appeared in varied Looney Tune cartoons since her first appearance in Bewitched Rabbit.