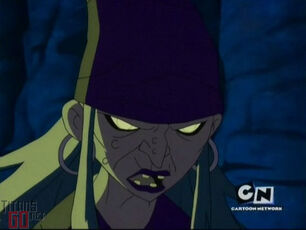 The Witch is a villain in the Teen Titans series.
She was freed by Krall to help him win the affection of Sarism and to become a hero. She became a reluctant servant of Krall after she was released. The Witch granted Krall the strength to defeat the minions she summoned that attack the village. When Cyborg accidently traveled back through time, he fought the minions and got Sarism's affection. The Witch opened a portal to Cyborg's but refuses. She gets Krall stronger by having the minions merge with him. Later, she joined the Brotherhood to defeat the Teen Titans. She left before the final battle and wasn't seen frozen.
Ad blocker interference detected!
Wikia is a free-to-use site that makes money from advertising. We have a modified experience for viewers using ad blockers

Wikia is not accessible if you've made further modifications. Remove the custom ad blocker rule(s) and the page will load as expected.