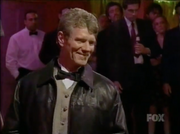 | | | |
| --- | --- | --- |
| " | I was a child when you went away, so in your eyes I never grew up. When my mother died, I found your film, and I knew what I had to do to become a man. Now I've completed your life's work. Your loving son, William. | " |
| | ~ William's posthumous letter to his father, the Burnt Man | |
William Lambert (real name, "William DuChamps") (played by Tom Stechschulte) is a business man in the reality show (blended with murder mystery fiction) "Murder In Small Town X".
He was labeled as one of the fifteen suspects of the "Sunrise Killer" who killed the Flint family at Sunrise, Maine. As it came to him and Frank Kovick, it turns out that William is the killer.
His background history was that in 1941, his family (sans his father) was murdered by the OSL (The Order of the Scarlet Lupine) who reacted to the smuggling crackdown by the government. His father survived, but had burns on the left side of his face. Thirty years later, he murdered Oscar Blodgett, but couldn't bring himself to kill the others and filmed himself to William by asking him to finish the job before comitting suicide.
Thirty years later, William began killing those living in Sunrise who descended or are related to those who murdered his family: Nate Flint, Abby Flint, Carmen Flint, Leita Rose-Blodgett, G.D. Thibodeaux, Hayden DeBeck, and Mary-Elizabeth Merchant. While placing Carmen's body in the water, he took the rest of the bodies to his hiding place, and stole Oscar's corpse from the casket to recreate the scene which as the same as the old picture of his family.
In challenging the contestants to a game, he also "killed" 8 of them.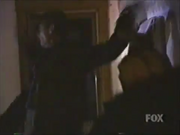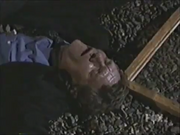 His final intended victim was Sam Larabee (also descended) who he kidnapped and taken her to his hideout. But Angel Juarbe, Jr. found his hideout and found Sam blindfolded, but alive along with the other victims (not including eliminated contestants). As William prepares to kill Angel, he was spotted by Chief Officer Dudley Duncan and tried to escape. As Angel carried Sam outside, William was cornered in his room by Duncan who orders him to freeze. But William did not freeze and took a step toward Duncan who had to shoot him twice in the chest. The first shot knocked him backwards, the second shot forced him through the window causing him to fall two stories onto the driveway, dead.
Victims
Nate Flint (deceased); Lambert's business partner
Abby Flint (deceased); daughter of Nate Flint
Carmen Flint (deceased); wife of Nate and mother of Abby
Shirley King (eliminated from the show);
Oscar Blodgett; killed by the Burnt Man in 1971, and Lambert stole his corpse.
Andrew Landan (eliminated from the show);
Lindsey Labrum (eliminated from the show);
Leita Rose-Blodgett (deceased); widow of Oscar Blodgett
Stacey Carmona (eliminated from the show);
Brian Porvin (eliminated from the show);
G.D. Thibodeaux (deceased);
Hayden DeBeck (deceased); one of the last surviving members of the OSL
Kristen Kirchner (eliminated from the show);
Mary-Elizabeth Merchant (deceased); Abby's best friend
Katie Kloecker (eliminated from the show);
Jeff Monroe (eliminated from the show);
Samantha "Sam" Larabee (kidnapped; survived);
Ad blocker interference detected!
Wikia is a free-to-use site that makes money from advertising. We have a modified experience for viewers using ad blockers

Wikia is not accessible if you've made further modifications. Remove the custom ad blocker rule(s) and the page will load as expected.