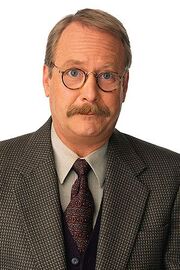 Willard Kraft, often known as Mr. Kraft, is a character in the show Sabrina the Teenage Witch. He was the secondary antagonist of the early seasons and was played by Martin Mull. He started out as a vice principal in the second and third seasons before his role as the principal in the quaternary season. Sabrina's complications were caused due to him dating Aunts Hilda and Zelda.
In one episode, he was trying to hurt Aunt Hilda, with Salem watching them fight.
Ad blocker interference detected!
Wikia is a free-to-use site that makes money from advertising. We have a modified experience for viewers using ad blockers

Wikia is not accessible if you've made further modifications. Remove the custom ad blocker rule(s) and the page will load as expected.