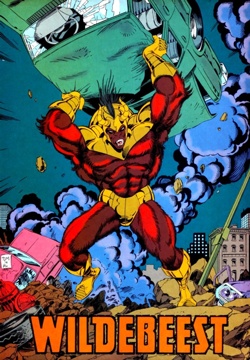 Wildebeest
is a member of the Wildebeest Society who are enemies of the Teen Titans.
Origin
The first Wildebeest was an animal poacher who fought the two holders of the H dial Chris King and Vicki Grant.
The second was an experiment made up of member od the Wildebeest Society to be one of their members with muscle. He loyaly served the society and carried out various criminal missions for them and fought the Teen Titans. When he was finally destoyed a third was made by the society called Baby Wildebeest but he joined the Titans.
Evil clones of Wildebeest were later created by Klarion the Witch Boy to create chaos and fought the Titans but were later contained. 
Television History
The heroic Baby Wildebeest later appeared in the Teen Titans animate series. He is a member of the Titans who doesn't speak much.
Gallery