Ad blocker interference detected!
Wikia is a free-to-use site that makes money from advertising. We have a modified experience for viewers using ad blockers

Wikia is not accessible if you've made further modifications. Remove the custom ad blocker rule(s) and the page will load as expected.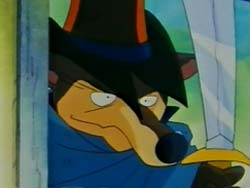 Wilde Wolf
(Gretel Wolf in the Japanese version) is the main antagonist of the Maple Town anime. He is an adult wolf dressed in bandit-like clothing. He first appears in the episode
Welcome to Maple Town
when he appears on the Maple Town train, trying to take the passengers' belongings and interrupting the train ride. Over the course of the anime, he often disturbs the peace in the town by performing villainous acts to the citizens such as forcing Danny Dog (Johnny Kraft) to place Fanny Fox (Diana Konderik)'s necklace onto his sword (which is Wilde's trademark weapon) in
The Stolen Necklace
, only for them to fail. He was voiced by Steve Kramer in the English version.