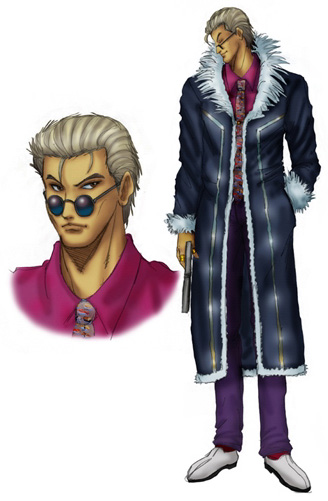 Wild Fang is a recurring antagonist in the Time Crisis series along with Wild Dog. He first appeared in Time Crisis 3 as Wild Dog's younger apprentice.
Time Crisis 3
| | | |
| --- | --- | --- |
| " | Allow me to introduce myself. My name is Wild Fang, and it's a pleasure to meet...YOU! | " |
| | ~ Wild Fang, introducing himself to the VSSE agents. | |
He appears in Stage 3-1 of the game when Wild Dog challenges the VSSE agents with Wild Fang as his partner. After a lengthy gunfight, both Wild Dog and Wild Fang are defeated, with Wild Dog blowing himself up in the process.
Time Crisis 4
| | | |
| --- | --- | --- |
| " | Pretty good... you dodged it. But you know what? You're startin' to get on my nerves! It's just you and me, man to man! | " |
| | ~ Wild Fang, confronting Captain Rush | |
His second appearance in the series was near the end of
Time Crisis 4
, where he is the penultimate boss of the Complete Mission mode. Here, he encounters Captain Rush at the Hamlin Battalion occupied AFB in Colorado, and challenges him to a one-on-one duel. Eventually, Rush manages to defeat Fang by kicking him into the path of a UCAV, launching him out of the area.
Time Crisis 5
| | | |
| --- | --- | --- |
| " | Abandoned by your own partner. What a shame. The name's Wild Fang...I'm here to put an end to you! | " |
| | ~ Wild Fang, introducing himself to VSSE rookies Luke O'Neil and Marc Godart, who are now escorted by Keith Martin. | |
He appears in the True Mastermind Edition of the fifth game, where he's surprised that the agents were "abandoned by their own partner". He battles the agents inside a cave, now armed with turrets on his back that can create a solar energy orb to destroy the cave and the entire United States, but the agents manage to defeat Fang, the orb absorbing and killing him in the process.