The White Martian is a character from the DC comics universe.
Origin
The White Martian was the villainous Antimatter Universe counterpart of the Martian Manhunter. As a member of the Crime Syndicate, the White Martian was the chief rival of Ultraman until he was killed by the latter.
J'edd J'arkus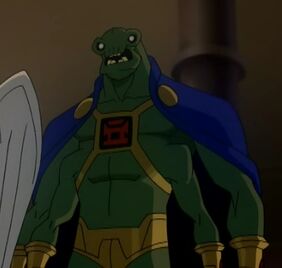 He is the evil counterpart of Martian Manhunter. He was one of the six leaders of the Crime Syndicate. He was killed by the Jester (counterpart of the Joker) when with Angelique (Hawkgirl's counterpart) he went after Luthor and Jester stealing the quantum trigger, but the Jester sacrificed himself, staying behind and using a bomb to kill the villains.