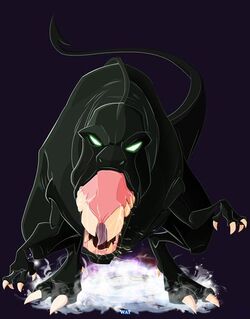 Wat is a powerful demonic being and one of many villains in The Real Ghostbusters cartoon series.
History
After a week of no cases, the Ghostbusters receive a call about a haunted house from 1313 13th Street in the Levittown suburbs of Long Island. Wat manifested in human form as an elderly old woman named Mrs. Rogers and was accompanied by its primary servitor, a demon bird in the form of a yellow canary named Precious. Wat created the house to trap the Ghostbusters while Wat's true goal is to rule and conquer the living world. While the Ghostbuters investigated the house, Mrs. Rogers was escorted to the Firehouse for safety reasons. This played into Wat's plans and he planned to open the Containment Unit to increase the size of his army. However, a new safety feature just happened to be added to the Containment Unit. A security keypad was required to open the grid and only the four Ghostbusters knew the passcode.
Eventually, the Ghostbusters were tipped off that Wat was behind the haunted house and escaped. They raced to the Firehouse to stop Wat. Wat later takes possession of Peter Venkman in order to release the lock on the Containment Unit. He was eventually separated from Peter and trapped by the Ghostbusters. As soon as Wat was trapped, the 1313 residence is sucked in through a chest and the chest vanishes.
Description
In his true form, Wat is a giant, ugly, hideous, dark-skinned, almost lizard-like demon. When pushed back, his lips reveal large beak-like gums.
Personality
This self-proclaimed leader of evil spirits seemed to be a power hungry type, seeking to take over the world.
Powers and Abilities
Wat is a demon that possess strong dark powers. The most notable of all his abilities
Possession
Shape-shifting
Wat is technically a Class 8 entity. Class 8 entities are considered as dominant immense forces of power, meaning they are far stronger than a Class 7. This places Wat on the same level as Mee-Krah, also a Class 8.
Upon visiting the 1313 residence, Egon's P.K.E. Meter detects a major psychic force inside and then blows up. Ray later confirms with another scan of Mrs. Roger's items and states the entity is "driving the needle right off the top of the scale."
Tobin's Spirit Guide
Wat is listed in Tobin's Spirit Guide as "A dominant force of the underworld. Leader of a legion of evil demons. Wat's goal is to invade and conquer the living world." Being listed in the Guide suggests that Wat was encountered before (possibly by Tobin) at some point between the 1920's and 1980's. Or at the very least, a legend was heard around that time period.
Wat's Minions
Name of the Ghost
Wat has been confused with Watt and What due to any text talking about it sounding like a question than an actual noun. However, with the release of The Real Ghostbusters Dvd Box Set there are storyboards for the episode which have the name Wat used.
Gallery
Trivia
On page seven of Ghostbusters Issue #5, Mrs. Rogers makes a non-canon cameo in Manhattan.
Wat makes a cameo on a special sketch cover of Ghostbusters #9
On page nine of Ghostbusters Volume 2 Issue #9, Wat makes a non-canon cameo on a photo on Egon's board.