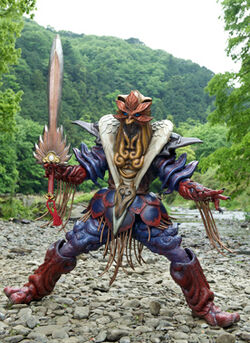 Vulpes
is a Nighlok monster debuting in the
Power Rangers Samurai
episode "Unexpected Arrival". He is voiced by Ari Boyland.
He has a very powerful mirror called the "Enchanted Eye" that he used to spy on Jayden while he was practicing his Sealing Symbol in order to find out his Symbol Power to free Master Xandred. He has a ton of mirror spells and can open a portal to reflect back the Rangers sword attacks & copy their sword slash attack. He was destroyed by Antonio, and then destroyed by the Battlewing Megazord with help from the Octozord.
In "Room for One More", it was revealed that Vulpes was good friends with Steeleto.
In "Party Monsters", he is amongst the deceased Nighloks attending their annual afterlife Halloween party in Nighlok Heaven.
His long nose and mysterious spells are the basis of the Tengu with elements of the kitsune thrown in.
Trivia
Vulpes' voice actor, Ari Boyland, is known in Power Rangers for playing Flynn McAllistair, the Blue Ranger in Power Rangers RPM.
See also
Isagitsune, his Super Sentai counterpart in Samurai Sentai Shinkenger.