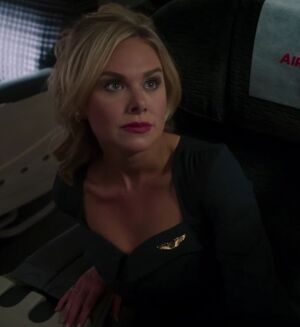 Vivian Tribeca is the main antagonist from "Murder in the First Class," a first season episode of Angie Tribeca.
She was played by Laura Bell Bundy.
Vivian is the villainous second cousin (once removed) of the title character, and she is also a flight attendant at Air Jordan, where passengers have been killed one by one. Angie and Geils meet Vivian while on the case, and Vivian wastes no time flirting with Geils, much to Angie's extreme annoyance. Geils falls for Vivian's charm and insists that Angie's annoyance with her is just jealousy. The duo learns that the killer is asthmatic, so they go undercover at Air Jordan, with Angie working with Vivian as a flight attendant. Vivian deals with an irate passenger, and is driven to such a rage that she attempts to smother him with a pillow. While doing so, Vivian has asthma attacks and uses her inhaler, revealing herself to Angie as the killer.
Regarding a motive for the murders, the villainous Vivian stated that she was tired of being berated by the passengers, who she referred to as spoiled, ungrateful, and lacking in manners. Vivian tosses the pillow at Angie and runs off, while Angie chases her. During the chase, both Angie and Vivian still cater to the passengers. Vivian is chased all the way to the lavatory, where Angie, Giles, and Lt. Atkins all arrest her for murder.
Personality
Vivian appears to have a bubbly personality, but as shown in her villainous reveal, she is prone to fits of rage.