Prof Viru "Virus" Sahastrabuddhe
is the main antagonist of 2009 Indian film
3 Idotis
. He is an arrogant and ruthless man who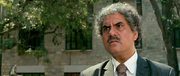 was a professor of university who depsied on Rancchoddas "Rancho" Shyamaldas Chanchad who help his friends to get study. Virus is best known for his arrogance and listen the opera music. he made his student's life into suicide and Rancho vowed his changlie against Virus before Rancho fall in love with Virus's daughter Pia. after Rancho was exepled from Collage, Pia revealed to Virus that Pia's brother and Virus's son commit suicide because he forced him to exam, when Virus's daughter Mona about gave to birth his grandchild,Rancho help her to gave birth by Vacuum extractor. finally Virus admit his defeated and gave pen to Rancho.
Ad blocker interference detected!
Wikia is a free-to-use site that makes money from advertising. We have a modified experience for viewers using ad blockers

Wikia is not accessible if you've made further modifications. Remove the custom ad blocker rule(s) and the page will load as expected.