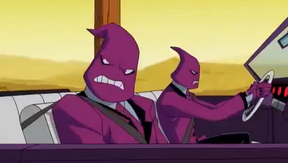 The Violet Offenders are a pair of villains.
Appearance
The Violet Offenders both wear purple/pink suits and masks with eye slits to hide their identity.
Powers and Abilities
The Violet Offenders don't possess many abilites except for a vehicle with a turbo function and are equipped with laser guns.
History
Five years prior to Omniverse
The Violent Offenders first appeared in "Showdown: Part 1". They attempted to get away with stolen money and manage to outdrive the Rustbucket and the police. They were stopped by Feedback.
Omniverse
In "OTTO Motives", the Violent Offenders were working for Otto.
Appearances
Ben 10: Omniverse
"Showdown: Part 1" (flashback; first appearance)
"OTTO Motives"
Ad blocker interference detected!
Wikia is a free-to-use site that makes money from advertising. We have a modified experience for viewers using ad blockers

Wikia is not accessible if you've made further modifications. Remove the custom ad blocker rule(s) and the page will load as expected.