Ad blocker interference detected!
Wikia is a free-to-use site that makes money from advertising. We have a modified experience for viewers using ad blockers

Wikia is not accessible if you've made further modifications. Remove the custom ad blocker rule(s) and the page will load as expected.
Biography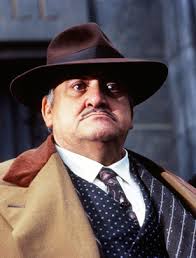 When the Joker gathered all of Carl Grissom's rivals together for a meeting, Vinnie Ricorso was considered to be someone who wants to think for himself and question the Joker's decisions. Always the first to become suspicious, Ricorso demanded to know why Grissom wasn't around which caused Carmine Rotelli to question the Joker. Joker murdered Rotelli with a joy buzzer and ordered his personal army to make all the crime lords leave.
Later, Ricorso went to Gotham City Hall to file an affidavit so he can steal all of Grissom's businesses. To answer the media's questions, Ricorso explained that Grissom asked him, as a personal favor, to take over his business operations until he returned. Ricorso's lawyer confirmed this by explaining that Grissom's signature was perfectly legitimate. The Joker and his mines then arrived and caused a massive shootout to occur after Joker pulled out a ridiculously large quill pen and Ricorso in the throat.
Trivia
-He was was killed on the same day that Thomas and Martha Wayne died.