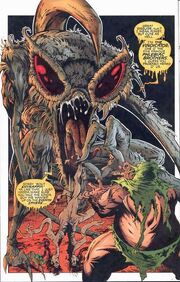 One of the legendary five Phlebiac Brothers, including Violator, Vandalizer, Vaporizer and Vacillator. Vindicator was created alongside the rest of his brothers, to serve Malebolgia, Lord of The Eighth Sphere of Hell. He has been one of the more active of the siblings and his job was to test and then guide potential Hellspawn through the bowels of Hell. It was during one of these scouting missions that he tested child murderer Billy Kincaid. Vindicator is also the most sarcastic and humorous of the brothers.
Ad blocker interference detected!
Wikia is a free-to-use site that makes money from advertising. We have a modified experience for viewers using ad blockers

Wikia is not accessible if you've made further modifications. Remove the custom ad blocker rule(s) and the page will load as expected.