Villain Song
Talk

0
35,536pages on
this wiki
A "
Villain Song
" is a musical number in a film or play that is sung by and/or about a major villain, typically the main antagonist. Usually, the song is about the villain's plans, personality, abilities and overall character, and often serves as an introduction to the villain; Villain Songs usually appear fairly early in the story, as opposed to, say, the climax. It is rare for a film to contain more than one Villain Song, but it is indeed very possible, especially if there is more than one antagonist.
Villain Songs are most common in animated films, where they are often quite dark and frightening compared to the rest of the movie; many of the most famous Villain Songs are found in the films of the Disney Animated Canon, especially from the 1980's and onward. They are much less common in live-action movies, which rarely have musical numbers, but also appear frequently in stage musicals. A variant is known as "The Villain Sucks Song", which is sung by another character (usually a hero, naturally) insulting the villain in question. Another rarer variant is The Villain's Lament, which is sung by the villain, usually regretting his or her actions. An example of this is Reviewing the Situation.
Examples
Disney
"Poor Unfortunate Souls" from The Little Mermaid, sung by Ursula convincing Ariel to g

03:07

Be Prepared The Lion King English

ive away her voice.
"Be Prepared" from The Lion King, sung by Scar, who is rallying the Hyenas in order to show them that he will be a great king of Pride Rock; in this scene, he also shows a slight resemblance to Hitler.
"Mother Knows Best" from Tangled, sung by Mother Gothel to Rapunzel about how "dangerous" it is out there if she was in the forest full of dangerous stuff.
"You're Only Second Rate" from The Return of Jafar, sung by Jafar who defeats Genie and Abu. Jafar also sang the "Prince Ali" reprise in the first Aladdin film.
"Love is an Open Door" from Frozen, sung by Hans with Anna (which was disguised as a love song). It had some hints of villainy.
"Gaston" and "The Mob Song" from Beauty and the Beast, both sung by Gaston and a crowd of villagers; the first was about how great Gaston is, and the second was about killing the Beast.
"Hellfire" from The Hunchback of Notre Dame, sung by Judge Claude Frollo about his uncontrollable lust for Esmeralda, where he struggles to convince himself that it is not all his fault and ultimately decides that he will either make Esmeralda his or kill her, and will "burn down all of Paris" to find her. Due to its extremely dark (by Disney standards) subject matter (including indirect references to rape), this song is widely considered the darkest scene in the Disney animated canon.
An unrealeased song, "Honest John" from the film Pinocchio telling about Honest John's nasty ordeals and how he shouldn't be trusted.

01:54

Honest John

"Friends on the Other Side" from The Princess and the Frog, sung by Dr. Facilier about his voodoo powers.
"The World's Greatest Criminal Mind" from The Great Mouse Detective, sung by Professor Ratigan and his followers about Ratigan being the greatest criminal mastermind in the mouse world. Also is "Goodbye So Soon" as played on a record player used as a trap for Basil and Dr. Dawson.
"Savages" sung by Governor Ratcliffe on his hatred of the Native Americans, whom he calls "savages", and mistakenly believes the Natives to be hiding the gold that he thought existed in the "New World". Ratcliffe also sang "Mine, mine, mine" in the film, expressing his view that the gold would be plentiful in the "New World". In the second film, Ratcliffe sang "Things Are Not What They Appear" in the sequel, to nonverbally tell King James and Queen Anne that Pocahontas was not the "civilized" woman she had been dressed as for the Hunt Ball that evening.
"The Phony King of England" is a villain sucks song dedicated to Prince John and his incompetence.
Tim Burton's The Nightmare Before Christmas features two villain songs: "Kidnap the Sandy Claus", sung by Lock, Shock and Barrel about ways they will capture Santa Claus and bring him to Oogie Boogie, and "Oogie Boogie's Song", sung by Oogie when Santa gets dropped off in his lair.
"Cruella De Vil" from 101 Dalmatians, a "Villain Sucks Song" sung by Roger insulting Cruella de Vil.
"It's Our House Now" from the video "Mickey's House of Villains", sung by dozens of Disney villains taking over the House of Mouse.
"My Lullaby" from The Lion King 2, sung by Zira, Nuka, and Vitani, expressing their hatred for Simba and their plans for Kovu to be the future king. This song is also considerably dark for Disney, concerning details like the lionesses' mourning cry, Simba's dying gasps, and his daughter squealing in Zira's grasp. This song also express Zira's vengeance and near-insanity, describing the royal family's deaths as a "pretty dream" and so forth.
"Fee-Fi-Fo-Fum" from Mickey and the Beanstalk, sung by Willie the Giant, showing off his amazing magical powers like size changing, flying, invisibility and shape shifting.
"Yodel-Adle-Eedle-Idle-Oo " from Home on the Range, sung by Alameda Slim and The Willies demonstrating Slim's power to hypnotize cattle by yodeling.
"Don't Fall In Love" from Beauty and the Beast: The Enchanted Christmas, sung by Maestro Forte trying to convince the Beast that love is an evil thing, and that he should not fall in love with Belle.
Junkyard Society Rag from Lady and the Tramp II: Scamp's Adventure., sung by Buster and his pack of junkyard dogs about the life of a "free dog"/stray dog.
"Cabbages and Kings" sung by The Walrus in Alice In Wonderland.
The Best Christmas of All, despite not a villain song, is sung by Disney Villains Jafar, Hades, Captain Hook & The Queen of Hearts alongside with many numerous Disney heroes and characters in Mickey's Magical Christmas: Snowed in at the House of Mouse. The song even shows that even Disney Villains have standards by celebrating Christmas with their enemies and spend some time in holidays.
Other Animated Features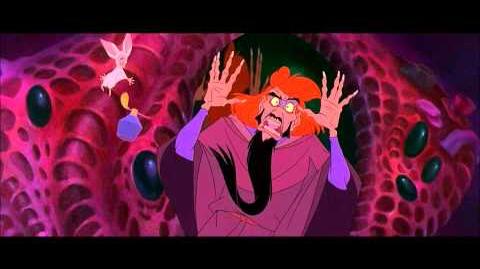 "In the Dark of the Night" from Anastasia, sung by Rasputin about his immediate plans to kill Anya.
"Nothing Can Stop the Smooze" and "Evil Like Me" from My Little Pony: The Movie- one is about the Smooze, an evil monster who takes delight in destroying Ponyville and the other is about the wicked witch Hydia and her distress at her daughters not taking "being evil" serious enough.
"Frogs & Birds, Bugs & Bats" from the TV special adaptation of Madeline and the Bad Hat is a villain song sung by Pepito (when he was the main antagonist and still a villain) about how he captures animals and mistreats them.
"The Big Bad Cat" from Rugrats Go Wild. It is both a villain song (sung by a villain, that being Siri) and a villain sucks song (sung about her by Spike).
"No More Toymakers" by Burgermeister Meisterburger in Santa Claus Is Coming to Town.
"A Crooked Man" by Barnaby Crookedman and "The Worst Is Yet to Come" by Gonzargo and Rodrigo from the 1997 MGM animated version of Babes in Toyland.
"Friends of the Working Mouse" from An American Tail: The Treasure of Manhattan Island, sung by Mr. Grasping, Toplofty, and O'Bloat about their plans to fool the workers into killing countless Native Americans just so that they can keep control of the workers and dispose of the "miscreants" and "anarchists" in their business.
"Creature de La Nuit" from An American Tail: The Mystery of the Night Mon'ster, sung by Madame Mousey about herself and how she plans to dispose of Nellie Brie in a violent way before she reveals to the mouse public of New York what the Manhattan Monster really is.
"Toxic Love" from Ferngully: The Last Rainforest, sung by Hexxus about himself and his "love" for pollution.
"The Manor Will Be Mine" from the animated adaptation of The Secret Garden, sung by a reimagined Mrs. Medlock about her goal to get rid of Colin Craven (as she tries to poison him) so she'll have Misslethwate Manor to herself.
"The Queen of Mean" from A Troll in Central Park, sung by Gnorga about herself.
"Don't Make Me Laugh" from The Pebble and the Penguin, sung by Drake threatening Marina to mate with him.
"Money Cat" from Gay Pur-ee, sung by Meowrice and his gang of cats.
"Davey's Song " from Eight Crazy Nights, sung by Davey Stone as he declares his own hatred for the holidays and everybody (as he eludes the police after they are told by Mr. Chang about him walking out on his bill). Although most of the songs have Davey singing, this is the main villain song.
"Big and Loud" from Cats Don't Dance, sung by Darla Dimple, as she gives Danny her advice to perform for L.B. Mammoth. She sings a much darker version after Danny leaves and prepares her evil plan to get rid of animals once and for all.
"You're a Mean One, Mr. Grinch" from How the Grinch Stole Christmas, a "Villain Sucks Song" about The Grinch.
The Witch's song by the witch in Kin no Tori (The Golden Bird)
"Top of the Woods" from Hoodwinked!, sung by Boingo.
"What Do We Care" from Tom and Jerry: The Movie, sung by the Alley Cats while bullying Tom and Jerry. From the same film also comes "Money is Such a Beautiful Word", sung by Lickboot and Aunt Pristine Figg about their disturbingly obsessive monetary greed. Also are "God's Little Creatures", sung by Dr. Applecheek about what he does with animals he captures. An extended version of the latter is only on the soundtrack.
"I am King" from Dougal and the Blue Cat, sung by Buxton the blue cat, talking about doing nasty things.
"Don't Say There's Nothing To Do In The Doldrums" from The Phantom Tollbooth, sung by The Lethargians about themselves and their lifestyle.
"Goblin Town" and "15 Birds" from the animated version of The Hobbit both performed by the goblins, the first is about taking their victims to their lair, the second is about hunting down the dwarves, Gandalf, and Bilbo and killing them.
"Evil-Manya" from Freddie as F.R.O.7. sung by Queen Messina about her plans for world domination.
"Pretty Bird" from Rio, sung by Nigel about how his acting career was ruined by a parakeet.

02:09

Rio - Nigel's Song-0

"Who Needs ya, Not ME!" sung by Ichy and Dil in The Land Before Time IV: The Land of Mists, about an argument about who gets what!
"How Can You Refuse" sung by Preminger in Barbie: Princess and the Pauper planning to steal the throne!
"The Real Ludmilla" from Bartok the Magnificent by Ludmilla, the real culprit of getting Vanity from the Potion, but has a strange side effect instead!
"Ruber's Song" from Quest for Camelot by Baron Ruber who is creating his army!
"No More Mister Nice Guy" from The Swan Princess, sung by Rothbart.
"Playing With The Big Boys" from The Prince of Egypt, sung by Hotep and Huy as a way of threatening and intimidating Moses for Rameses. This goes double for "The Plagues" as, though mostly sung by Moses, Rameses refuses to let the Hebrews go.
"Top of the Woods" sung by the real culprit of Hoodwinked. 

02:43

Hoodwinked Soundtrack - Top Of The Woods

"My Name is Mok" by Mok Swagger, showing that he has a big ego.
"You Gotta Love It" by Clavius in Swan Princess II: Escape from Castle Mountain, boasting about having power!
"Bad Days Ahead" by Zelda in Swan Princess III: The Mystery of the Enchanted Treasure.
"How Bad Can I be?" sung by the Once Ler from the 2012 movie The Lorax.
"Master of the Seas" from Ice Age: Continental Drift, sung by Captain Gutt and his crew about being pirates and how Gutt considers himself the "undisputed master of the seas".

02:26

Ice Age 4 Continental Drift - Clip Master of the Seas

"If I Ruled The World" from The Proud Family Movie, sung by Dr. Carver after obtaining Oscar Proud's multiplying formula for his genomes.

01:44

Dr. Carver's Theme

"It Feels So Good to be Bad" from All Dogs Go to Heaven II, sung by Red about the joys of doing evil.
"Puppyhood" and "I Always Get Emotional at Christmas Time" from An All Dogs Christmas Carol. The former was sung by Carface about how he was turned into a villain after the mischief he caused in his first human owners' home. The latter was sung first by Killer about his joys of celebrating Christmas and by Belladonna about her love for ruining Christmas and later reprised in a short, sad tone by Carface.
"Welcome to My Warehouse", sung by Edward Murdstone and his corrupt associates as they "usher" David into the horrific slave conditions of his workhouse.
"The Titan Song" from Hercules & Xena: The Battle for Mount Olympus, sung by the Titans about their return in power & plans for world domination.
"Candy Candy" and "Jester A" from Legends of Oz: Dorothy's Return, were both sung by the Jester. "Candy Candy" was about the Jester witnessing (and indirectly telling) Dorothy and Wiser eating illegal sweets after magically changing the signs. "Jester A" was about the Jester being ready to rule Oz.
Stage Musicals
"A story told" is a song performed by Patrick Stanke, Mark Seibert and Mathias Edenborn in 2009 musical Count Monte Christo. It can be heard here: https://www.youtube.com/watch?v=SicOw6aNx3M.
"Dentist" from Little Shop of Horrors, sung by Orin Scrivello, DDS about his profession.
"Epiphany" from Sweeney Todd, sung by Sweeney Todd himself, is about his desire for vengeance against the Judge although Todd isn't the real villain. "Pretty Women" from the same musical, while it has nothing to do with evil at all in its lyrics, was included on the Nostalgia Critic's list of his Top 11 Villain Songs. If you really think about it, the song is sung by two villains.
"Maison De Lunes" from the Broadway adaptation of Beauty and the Beast, sung by Gaston, Lefou, asking Monsieur D'Arque to throw Maurice into the asylum unless Belle agrees to marry Gaston. This song is not in the Disney film of the same name.
"A Freak Like Me Needs Company" from Spider-Man: Turn Off The Dark, sung by the Green Goblin as he assembles the Sinister Six.
"Malachis" sung by the Malachi Brothers in the musical Happy Days. They also sing a reprise.
"This Jesus Must Die" sung by Caiaphas, Annas, and the priests in Jesus Christ Superstar. The same goes for "King Herod's Song" sung by Herod Antipas. Partially, that includes "Blood Money", sung not only by Caiaphas and Annas, but also by Judas Iscariot. Of course, originally made for the 1973 film and only in any stageplays going by it does that include "Then We Are Decided", again, sung by Caiaphas and Annas.
"The Mutiny" sung by Captain George and the Pirates. (starts out as their first song)
"One More Angel in Heaven" is sung by Joseph's Brothers (mainly the oldest, Reuben) in Joseph and the Amazing Technicolor Dreamcoat. Of course, they also have villainous lines in "Joseph's Coat", "Joseph's Dreams", and "Poor, Poor Joseph". Also, briefly, Potiphar's wife gets a brief line (whether sung or spoken) in the song "Potiphar". No other song by Joseph's brothers counts, as they redeem themselves starting in "Those Canaan Days".
"A Pirate History" sung by the pirates
"Mumbo Jumbo" sung by the pirates, Scaredy Cat, and First Mate.
"Another Pyramid" sung by Zoser and The Ministers
"Like Father Like Son" sung by Zoser, The Ministers, and Radames
"Stars" sung by Inspector Javert and "Master of the House" sung by the Thenardiers and their drunken patrons. Both are from Les Miserables.
"It Would Take a Miracle" sung by Haman, his wife Zaresh, and a choir in the school play Malice in the Palace: The Story of Esther.
"Easy Street" sung by Miss Hannigan, Rooster and Lily St. Regis in Annie, also earlier is "Little Girls" sung by Miss Hannigan alone.
"Chow Down" sung by Banzai, Shenzi and Ed about eating Simba and Nala in the stage musical of The Lion King. Also, "The Madness of King Scar", sung by Scar, who tries to make Nala his queen. Neither of these songs were present in the film, though "The Madness of King Scar" was going to be used in the film, but was deleted.
"Make a Little Noise" sung by Sid Phillips in the stage musical adaptation of Toy Story.
"It Will All Be Mine" and the reprise of  "You and Me and Pokemon" by Giovanni in Pokemon Live!
Live-Action Films
"Sweet Transvestite" from The Rocky Horror Picture Show, sung by Dr. Frank-N-Furter to introduce himself.
"Mean Green Mother From Outer Space" from the movie version of Little Shop of Horrors, sung by Audrey II to Seymour at the climax of the play. It's about Audrey II's plans for world conquest, and how Seymour can't defeat it.
All villain songs from Jesus Christ Superstar in the 1973 film, including "Then We Are Decided".
"Beelzeboss (The Final Showdown)" was a song used in the film Tenacious D in The Pick of Destiny which was sang by The Devil in a

"rock-off" against Jack Black & Kyle

Gass.

Several main title songs from the James Bond series are about the villain of the film in question, such as "Goldfinger" and "The Man With the Golden Gun".
"Miss Piggy's Fantasy" from The Great Muppet Caper is sung by Nicky Holiday, along with some underwater ballet dancers and, near the end, Kermit.
"Scrooge" from The Muppet Christmas Carol is a "Villain Sucks Song" about how horrible Ebeneezer Scrooge is, sung by numerous Muppet commoners while Scrooge walks down the street. "Marley and Marley" has all the key elements of a typical Villain Song, but is about how the Marleys' evil ways earned them eternal damnation and is meant as a warning for their old friend, Scrooge.
"Shiver My Timbers" from Muppet Treasure Island is about more villainous and depraved pirates in general and is sung by several Muppet creatures on an island at the start of the film. This song is extremely dark by Muppet standards, but is alleviated somewhat by the comical puppet characters who deliver it. That goes for "A Professional Pirate", too, in which Long John Silver and his men try to get Jim Hawkins (the human hero) to become a pirate.
"Let's Talk About Me" from The Muppets; Tex Richman's answer to Kermit's request of returning Muppet Studios. The song reveals that Richman hates the Muppets due to a childhood incident.
"I'm Number One" from Muppets Most Wanted; Constantine gloats about being the world's "Number One" villain and his companion, Dominic Badguy, being "number two".
"Bernie's Holiday Camp", sung by Frank, along with Cousin Kevin's titular song and "Fiddle About" by Uncle Ernie in the film adaptation of Tommy.
"Secret of Survival" from The Wind in the Willows. Seen as one of the most catchiest villain songs ever, it is sung by the Weasels.
"Fidelity Fiduciary Bank" from Mary Poppins sung by Mr. Dawes Senior., George Banks, a

03:42

"Fidelity Fiduciary Bank"

nd the Bank Officers.
"Doe-Me-Doe Duds" from The 5,000 Fingers of Dr. T, sung by Dr. Terwilliker
Jadoo Teri Mazer sung by Rahul Metha
"I Steal Everything" sung by Aladdin from Twisted: The Untold Story of a Royal Vizier.
"I Want It Now " from Willy Wonka and the Chocolate Factory as sung by Veruca Salt
"Tonight's The Night" from Let It shine by Lord Of Da Bling
"Land of the Dicks" By Big TallyWacker, Weenie and The Dicks.
"Big T's Temptation" By Big TallyWacker
Television Series
"Let's All Get Real 'cos I'm a Big Deal" from the Further Adventures of Superted episode "Phantom of the Grand Ol' Opry" sung by Texas Pete who has been practicing for the Grand Ol' Opry.
In the Teen Titans episode, "Bunny Raven....Or How To Make An Titan'animal Disappear", 'Mumbo Jumbo has his own song called "Master Of Your Fate" before the show starts.
"Brains" from the Billy and Mandy episode "Little Rock of Horrors", sung by a Brain-Eating Meteor coercing Billy into feeding him the brains of everyone else in Endsville; the song was created by Voltaire specifically for the cartoon.
"Say We're Sweethearts Again", from the Batman: the Animated Series episode Harlequinade, sung by Harley Quinn over her bad relationship with the Joker.

01:55

Say We're Sweethearts Again

"Brand new plan", sung by Dr. Blowhole in the episode "The Return of the Revenge of Dr. Blowhole" of The Penguins of Madagascar.
"Porpoise Power Ballad", sung by Dr. Blowhole in the episode "The Return of the Revenge of Dr. Blowhole" of The Penguins of Madagascar.
"Lucio el malo" (Lucio the evil one) from the mexican telenovela Serafín a marching song by Lucio telling about his plans about destroying the angel Serafín. He has another song, "Somos malos."
Total Drama World Tour features several that fall mostly under the "Villain Sucks Song" category.

The most notable one of the normal variety being "This is How We Will End it", sung by Alejandro to Heather.
"Boyfriend Kisser" is a "Villain Sucks Song" directed at Gwen and performed by Courtney, and can easily be seen as a typical Villain Song by those who sympathize with the former.
Another "Villain Sucks Song" is Her Real Name Isn't Blaineley, a song Geoff sang to insult Blaineley and reveals disgusting truths about her after everything she's done to him, Bridgette, and almost everyone else in the show. An episode later, Blaineley sings a "Villain Song" about herself, titled Blainerific.

The Batman: The Brave and the Bold episode "Mayhem of the Music Meister" contains several, and The Joker sings one called "Where's the Fun in That?" in the "Emperor Joker" episode. He and Harley Quinn sing "Setting the Woods on Fire" in the episode "Two of a Kind" in the Batman
"Robot Hell" from the Futurama episode "Hell is Other Robots", sung by the Robot Devil to Bender.
The Powerpuff Girls features songs that are sung about a specific villain or sung by them.

"Go, Monkey, Go!" by Devo and "Fight the Power" by Bis are both songs sung about Mojo Jojo about his evil intentions and revenge on the Powerpuff Girls.
"Townsville's Going Downsville" is sung by Mojo Jojo, Fuzzy Lumpkins, HIM, Princess Morbucks, Ace, and The Amoeba Boys as they go on a rampage and destroying Townsville, as well as killing its civilians. The song ends with them getting the upperhand in fighting against the Powerpuff Girls.

"Take The Stage!! Ginyu Special Forces!" is the theme song for the Ginyu Force that is first introduced in Dragonball Kai, befitting the team's over-the-top nature. The song references each of the members' evil deeds and their time menacing the Z-Warriors.
There are two songs written about Frieza, one of the main villains of Dragonball Z, that tells about his time ruling the Planet Trade and Namek, as well as his evil motives and intentions. One is "F" by Maximum Hormone and "Only a Chilling Elegy" from the Japanese version of Kai.
"Pop Goes the Diesel" from the Thomas the Tank Engine and Friends episode Pop Goes the Diesel, sung by the Troublesome Trucks making fun of Diesel who was trying to pull a train of old trucks, but their brakes snapped and the coupling broke.
"Pop Goes old Ollie" from the Thomas the Tank Engine episode Toad Stands By, sung by S. C. Ruffey and the Troublesome Trucks taunting Oliver who fell in the turntable well.
In one episode of The Brak Show, Zorak becomes a singing sensation through threatening numbers such as "I'm Gonna Kick Your Ass".
"Me and My Shadows" by the Gloomeister in The Backyardigan episode "Flower Power"
The Hitcher (Rap) by The Hitcher describing himself & what he dose in the "Mighty Boosh Episode Hitcher.
"Chillin With the Villains" a special theme song of the Toon Disney Hour Chillin with the Villains!
Barry Barracuda's song about eating the Cat in the Hat's sea friends in The Cat in the Hat Knows a lot about That!
Trick or Treater Eaters by Mindy in Underfist 'about how the monsters are soon going to kill all the trick or treaters on Halloween.

 

"Bon~Karma~" in Higurashi No Naku Koro Ni Kai. It is sung by Miyo Takano when she declares that she has good luck (aka good karma). Though, it's not sung in the anime, it's a character song.
"Chain" by Beatrice in Umineko no Naku Koro ni. Like the above mentioned, this song is in her character song. It is about how she wants Battler to acknowledge her as a witch.
"Which weapon do I pick?" a villain song sang by Plankton when he finds the weapon room in the Spongebob Squarepants episode "Atlantis Squarpantis"
"I'm So Happy Living in Your Sock Drawer" is a villain song sung by The Sock Drawer Boy from the Bunch of Munsch episode: "The Boy in the Drawer".

01:36

Dr Drakken-Lather Rinse Obey

"Lather, Rinse, & Obey" rapped and sung by Dr. Drakken plugging his brainwashing shampoo in the Kim Possible episode: "Rappin' Drakken".
Several villain songs from Phineas and Ferb, sung by Dr. Heinz Doofenshmirtz, including:

"My Goody Two-Shoes Brother" as he talks about all the people he hates in life (primarily his older brother, Roger Doofenshmirtz, the mayor).
"Give Me Your Money Today" as he demands money from people to use for more evil.

"Give Me The Wand" sung by Norm the Genie in the Fairly Oddparents special, "Fairy Idol", as he tries to scheme the wand out of the hands of Jorgen von Strangle.
Video Games
Almighty Bhunivelze serves as the final boss theme of Bhunivelze the main antagonist of the Final Fantasy XIII series.
The Joker performs an eerie rendition of "Only You" during the credits of Arkham City.
In the credits of Arkham Origins, the Joker also sings a rendition of "Cold, Cold Heart".
In Metal Gear Rising: Revengeance all of the battle themes for the bosses start off as instrumentals in the game, only to gain vocals and describe the characters at perfectly-timed cues when the final phase of the fight starts. Examples are:

"A Stranger I Remain", Mistral's theme, describing how she only feels at home on the battlefield fighting for a cause she believes in - the first time in her life that she's ever found one.

"The Stains of Time", Monsoon's theme, using a rainstorm as a metaphor describing how the ceaseless fighting and nonexistence of free will has washed away any reasons for fighting or dreams of something greater, leaving only pure, unfettered violence.

"The Only Thing I Know For Real", Jetstream Sam's theme, describing how the only thing he truly knows is the feeling of killing others now that so much time has passed since he could tell right from wrong, and how he desires a worthy opponent who can provide him with a true challenge.

"Collective Consciousness", Armstrong's first theme (technically Metal Gear Excelsus' theme), which mixes his desire to rebuild America under his rule, where the strong prosper and the weak are eradicated from this world, with his hate for the established system where everyone is a slave to the status quo, and people fight and die for causes not their own.

"It Has To Be This Way ", Armstrong's second theme, which now describes how he finds Raiden to be a worthy opponent, how they are both similar in their implementation of Might Makes Right, and how whichever one of them emerges victorious will set the world on a new course in doing so. 

"E.G.G.M.A.N." is the theme of Dr. Eggman in Sonic Adventure 2, declaring the character as a mastermind.

03:27

E.G.G.M.A.N. by Paul Shortino (Theme of Dr. Eggman)

"The Happy Song" plays in Alan Wake: American Nightmare as the theme of Mr. Scratch, perfectly demonstrating his psychopathy.
"Conviction Yamaxanadu" is a doujin song about the ninth Touhou game final boss and her nature to judge and punish people for whatever she believes it's wrong.

04:01

English Subbed IOSYS - Conviction Yamaxanadu!

"Mizuhashi Jealousic Park" is a doujin song by Alice's Emotion where Parsee condemns various attributes of Touhou characters and yells of her sorrow about her powers being overshadowed.
Shadow has several themes associated with his character in many games. This most reccuring ones being "Throw It All Away" and "All Hail Shadow". Some of his other themes can be found here.
"(You Can't) Handle My Style" is an arguable villain song by Strong Bad that starts off the video game Strong Bad's Cool Game For Attractive People (SBG4AP).
Bibi Love, a psychopath from Dead Rising 2/Off the Record, forces the player to aid in the special effects of her comeback performance of "That's Amore".
Conroy Bumpus has "King of the Creatures" in Sam & Max Hit the Road wherein he declares himself a collector of the odd and master of all living things.
The Great Mighty Poo taunts Conker and starts attacking him while singing his song, "Sloprano".
Courtney Gears performs her number "Death to Squishies" in Ratchet and Clank Up Your Arsenal, a pop song about massacring all organic life.
I. M. Meen has his opening number in the introduction of the game of the same name, stating his contempt for "bookworms" and intention to entrap them inside a magical book.
Grimm has the "American McGee's Grimm Opening Theme" with which he expresses his disgust with cutesy modern versions of fairy tales and declares his intent to corrupt every one of them to a darkened state.
Drill-X sings during his battle with the Skylanders
Mad Doctor sings throughout most of Epic Mickey 2.

13:26

All Mad Doctor Songs from Epic Mickey 2

Both the theme songs of Yuuki Terumi, "Gluttony Fang" and "Endless Despair", also receive a vocal edition, which makes these theme songs into his Villain Song.
One-Winged Angel" is one of the most popular tracks of the Final Fantasy series. The song's name refers to Safer∙Sephiroth, who has six white wings where his legs should be and a grotesque black wing where his right arm should be, but since its original appearance, this title is commonly used to refer to Sephiroth himself and serves as a motif for the character.
Other
"The Daughter of Evil" produced by song maker mothy/Akuno-P, sung by Vocaloid Kagamine Rin. Like a fairy tale, it tells the story of Princess Riliane Lucifen d'Autriche's terrible reign and eventual purge from the throne and "execution" at the guillotine.
"When You're Evil" by Voltaire, a song about a very stereotypical "pure evil" villain who openly celebrates the joys of being evil.

03:11

Magic Flute (Queen of Night Aria)

"Der Hölle Rache" (the Infernal Vengeance) sung by the Queen of the Night in the opera Die Zauberflöte (the Magic Flute), in which she reveals her true colours and threatens to disown and curse her daughter Pamina for eternity if she does not kill her rival Sarastro.
Several versions of Peter Pan feature different songs about Captain Hook, usually insulting him or (in the case of the plays) describing his evil plans.
"Cousin Kevin" and "Fiddle About" as respectively sung by the villain of the former song's same name and Uncle Ernie, respectively in the Who's album Tommy.
Almost all of the songs in "Dr. Horrible's Sing-Along Blog", whether any of them is sung by Dr. Horrible or Captain Hammer, or by the Bad Horse Chorus. The one exceptional song is the short one Penny sings by herself.
"Welcome to the Deadmines" is a fan-made song sung by World of Warcraft bosses Rhahk'Zor, Sneed, Gilnid, Mister Smite, Cookie, Captain Greenskin, and Edwin VanCleef, all expressing their hatred and future plans for the city of Stormwind

03:45

Welcome to the Deadmines (Rise to Power 2010 Winner)

"Ignorance is Bliss" from White Knuckle Scorin' is performed by Bowser and details his intent to turn the land of Yoshis into a source of oil, so that he can become an oil tycoon.
Dr. Strangeglove's song by Dr. Strangeglove and the Glumps about Dr. Strangegloves backstory of how his glove became the way it is, and his plans.
One Homestar Runner short features a song called "Strong Bad is a Bad Guy".
In "Barney Live! In New York City" The Winkster sings a song about himself.
"Villain" by Yami Marik in Yugioh: The Abridged Series.
"Joker's Song" by Miracle of Sound, in which the Joker sings about his connection with Batman. It can be heard here: http://www.youtube.com/watch?v=gVok-7tDFF8. Also, in The Killing Joke, The Joker sings "Loony", justifying his insanity as the sanest choice he could make in an unfair world
"A Beast Am I" by Amon Amarth, about Fenrir breaking free from his binds and his plan to reek vengeance upon the gods (Particularly Odin) for imprisoning him.
"A King Never Makes Mistakes" was sung by King Zero in the TV special Lamb Chop in the Land of No Numbers.
"Midratas Vras" By Summoning about Mordor's amry.

03:31

PMV Rainbow Factory Music Video-0

"Rainbow Factory" The Evil Ponies will tell about the Factory.
"Rise" by Miracle of Sound, which is about Bane's plans for Gotham and how Batman must overcome his limits to become a true legend. Some verses are sung by Bane himself.
"Christmas Demolition" by Tom shows his deep hatred to Christmas and decision to destroy it once and forever.
Chef Piggy's song from Mickey Mouse vs Chuck E Cheese, parodies that of The Pac Man Ghost Musical, whilst attempting to cook Lumpy Space Princess .
"The Slender Man Song" by ZipZipper shows the Song of Slender Man
"Who Could Win A Rabbit" by Animal Collective is a song used by HABIT in his videos.
The "Boll Weevil Song", which is essentially about a boll weevil destroying a farmer's cotton crops.
"Elmo's Got a Gun" by Tommy and Rumble. It depicts Elmo, from Sesame Street, going on a killing spree for undisclosed reasons. It is a parody of the song "Janie's Got a Gun" by Aerosmith.
"Ave Satani". It talks about Damien Thorn and Satan
"Don't Hug Me I'm Scared " by Sketchpad hypnotises the puppets in lessons how to be creative, only for them to carry out murderous actions in the name of creativity
"Can You Feel the Sunshine?" was came from the video game Sonic R and the Creepypasta that when Tails Doll Curse is founded.
"Five Nights at Freddy's Song" by The Living Tombstone shows the song from the game Five Nights at Freddy's.