| | | |
| --- | --- | --- |
| " | I'm a fast-flying fairy; a true rare talent. And this just a small part of what I do. | " |
| | ~ Vidia | |
Vidia is the main antagonist of Tinker Bell, a minor character in The Lost Treasure, and a protagonist in the following sequels. She has the ability to fly at super speeds, and can create small whirlwinds and such. She is mean, nasty, cruel, greedy, cunning, selfish, spiteful, villainous, and manipulative, so she takes pleasure in bullying her fellow fairies.
She has recently began to rethink her wicked ways and has become friends with her former victims, even risking her life for them. She still remains sarcastic and temperamental as she always was, and although she can be mean, uncaring, and vindictive, Vidia has a soft spot as well.
She is voiced by Pamela Adlon who also played Hector McBadger, Bobby Hill and Spinelli.
Personality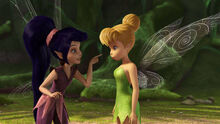 When all is said and done, Vidia is sly, grouchy, vindictive, and narcissistic, but has a good heart. She tends to use sugary phrases such as "darling" and "dear" in a condescending manner to other fairies. She is said to be the fastest fairy in Pixie Hollow, but her title gets to her head, as she is determined to keep her title and would go to great lengths to achieve this. Not only does she feel she is the best in speed, but the best fairy overall and berates anyone who thinks otherwise. She is incredibly strong-willed and outspoken, much like Tinker Bell, which can also indicate why the two fairies clash many times.
Despite her negative traits, Vidia ultimately has a good heart, most notably seen in Tinker Bell and the Great Fairy Rescue where she traps Tinker Bell in a fairy-sized house made by a human girl in an attempt to teach Tink a lesson on how dangerous human things can be. When the human girl ends up taking Tink to her home, Vidia puts all of her differences with the tinker aside to rescue her. Upon this adventure, Vidia reforms completely and is shown to be much friendlier with Tink and her friends.
Even so, she still maintains her anti-hero persona as seen in The Pixie Hollow Games where she is looking forward to Rosettaembarrassing herself during the competitions, knowing the garden fairy's fear of dirt and mud (which is much unlike the other garden fairies, who only do not want to enter because they never even came close to winning).
Vidia also appears to be an outcast in Pixie Hollow. She is the only fairy in the land to not reside in the home tree. Instead, she resides in a sour plum tree on the outskirts of the land.
Appearance
Small, slender, hand-sized, fair skin, pink lips, long purplish-black hair tied to a high ponytail with a dark purple band, lavender eyelids, gray eyes, pointy ears, dark purple vest with pink feathers, both dark purple pants and ballet flats, clear wings on her back
Quotes
| | | |
| --- | --- | --- |
| " | Tinker Bell: We didn't officially meet. I'm Tinker Bell. (Vidia came to a stop and gave her a long look) Vidia: Oh, yes. The new girl. | " |
| | ~ Vidia's first word | |
| | | |
| --- | --- | --- |
| " | Sweetie, I make forces of nature. You make pots and kettles. I work up in the sky, and you work down in a ditch. | " |
| | ~ Vidia | |
| | | |
| --- | --- | --- |
| " | Oh, of course. You'll prove it, huh? (Tinker Bell: Yes, I will) Well, I, for one, am looking forward to that. Excuse me. | " |
| | ~ Vidia to Tinker Bell | |
| | | |
| --- | --- | --- |
| " | This is my hiding spot! But it's all yours, now. | " |
| | ~ Vidia at Mercy of Hawk | |
| | | |
| --- | --- | --- |
| " | (Tinker Bell: Let me help you.) Don't touch me! I'm fine (Tinker Bell: But I was only trying to help.) Well, stop trying. | " |
| | ~ Vidia to Tinkerbell | |
| | | |
| --- | --- | --- |
| " | Wait a… Are we really gonna listen to her? She's the reason we're in this mess in the first place! (Tinkerbell: But I can fix it.) Yippee! Tinker Bell's going to save us with her dopey little doohickeys. Hide the squirrels! (Tinkerbell: What is your problem, Vidia? Why do you think you're so much better than me?) I am better than you, sweetie. I didn't ruin spring. (Tinkerbell: At least now I'm trying to help. Have you ever helped anyone besides yourself?) Well, I tried to help you! Maybe I should have told you to capture the hawk instead of the thistles! | " |
| | ~ Vidia revealing her true nature | |
| | | |
| --- | --- | --- |
| " | But...but that could take forever! | " |
| | ~ Vidia's last words as Queen Clarion finally gives her the punishment she deserves chasing down the sprinting thistles herself. | |
| | | |
| --- | --- | --- |
| " | (Tinker Bell: Vidia, do you really need to practice for the pixie hollow games right HERE?) Oh, come on, Tink. I'm in it to win it. | " |
| | ~ Vidia after Tink catches her from blowing down the banner for the Pixie Hollow Games. | |
Trivia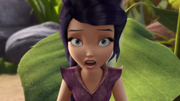 Vidia's hairstyle is similar to Megara's hairstyle in Hercules, albeit in a darker color.
Before officially being cast as the voice of Vidia, Pamela Adlonprovided scratch voice-over work for a few years for the character.
Vidia is one of the only three fairies made specifically for the Disney Fairies franchise to originate from the books to became a major character in the films, the other two being Terence and Queen Clarion.
According to Gail Carson Levine's official blog, when being proposed by Disney to write Fairy Dust and the Quest for the Egg, the name suggested to use for the character was actually "Invidia"; however, she did not like the name, thinking it was too depressing, so the name ended up being shortened to just "Vidia".
Vidia actually cares for Tinker Bell's well-being, though she will rarely admit it.
Vidia is barefoot in the graphic novels.
Vidia is the only fairy who did not go to the mainland in the first film.
Her name is also shown in a speech bubble by Tinker Bell in the mobile game Disney Magic Kingdoms, where she says that she almost went as fast as Vidia after the player unlocks her.