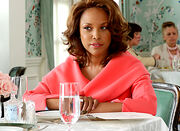 Victoria Breaux is the main antagonist in the 2007 film version of Madea's Family Reunion. She is played by actress Lynn Whitfield, who also portrayed Brandi Web in the 1996 film A Thin Line Between Love And Hate.
Victoria Breaux is the niece of the film's main character Madea and is the mother of 2 daughters from previous marriages, Vanessa from a musician who she claim tried to ruin her life and Lisa from her wealthy late husband, in the film she calls her grandchildren (Vanessa's children) Little Bastards during a meeting with Lisa's wedding planner in front of Lisa and Vanessa, Vanessa strikes back calling her wicked and referring her as a golddigger, Lisa tells her that Carlos was being physically abusive towards her but she advise Lisa to stay with him due to greed, we later learn that she has access to Lisa's trust fund because of Carlos but the most heartbreaking and evil thing Victoria had done was according to Vanessa as Victoria tries to convince Lisa to give Carlos another chance is that Vanessa tells Lisa that her father sexually abused her as a young teen and Victoria didn't do ANYTHING about it because she didn't want him to divorce her! she during the family reunion starts an argument with Vanessa about Lisa and Carlos and her involvement with a bus driver named Frankie then the argument turns into a fight in which Lisa and Frankie break up, in the film's conclusion, Lisa cancels her wedding and gives the ceremony to Frankie and Vanessa and Victoria's respond to Lisa was I feel sorry for you! one day you'll see!
Ad blocker interference detected!
Wikia is a free-to-use site that makes money from advertising. We have a modified experience for viewers using ad blockers

Wikia is not accessible if you've made further modifications. Remove the custom ad blocker rule(s) and the page will load as expected.