Victor Samuel "Vic" Mackey
is the central character and main protagonist of the television show
The Shield
.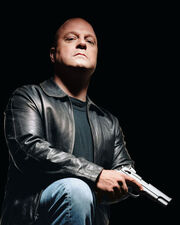 Mackey is a brutal and corrupt Detective working for the Los Angeles Police Department. He is part of a special anti-gang unit dubbed the "Strike Force", with Mackey leading the team. All the members of the Strike team under Vics orders commit numerous crimes including: planting evidence, taking bribes, robbery even murder in several cases.
Detective Mackey is portrayed by Michael Chicklis.
Ad blocker interference detected!
Wikia is a free-to-use site that makes money from advertising. We have a modified experience for viewers using ad blockers

Wikia is not accessible if you've made further modifications. Remove the custom ad blocker rule(s) and the page will load as expected.