Vernon T. Waldrip
is a villain of
O Brother Where Art Thou.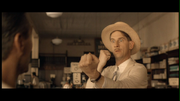 The manager for candidate Homer Stokes.Penny,Everett's wife,refuses to take him back and is so ashamed of him that she has been telling their daughters he was hit by a train and killed.Everett and Waldrip engage in fist fight.The result of Everett losing and him and Delmar being thrown out.
After Pappy O'Daniel,the sitting state governor of Mississippi,grants the 3 a full pardon.She dumps Waldrip and takes back Everett.
Trivia
It has been suggested that the character's name is a nod to novelist Howard Waldrop, whose novella A Dozen Tough Jobs is one of the inspirations behind the film.
Ad blocker interference detected!
Wikia is a free-to-use site that makes money from advertising. We have a modified experience for viewers using ad blockers

Wikia is not accessible if you've made further modifications. Remove the custom ad blocker rule(s) and the page will load as expected.