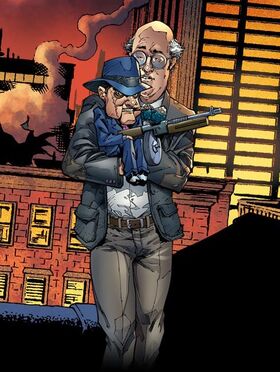 Arnold Wesker (a.k.a. The Ventriloquist) is a villain from the Batman series. He is always seen with the puppet Scarface. Many people believe he is crazy, and just puppetering Scarface, but he believes Scarface took possession over him.
Batman: Arkham Asylum
The Ventriloquist doesn't appear in the game Batman: Arkham Asylum. One of the Riddler's riddles revolves around him.
He has an entry in the Character Bios. His profile states:
Arnold Wesker was a timid orphan whose deep repression erupted in a barroom brawl, resulting in him being send to Blackgate Prison. There he encountered the puppet Scarface, and promptly murdered the man who'd carved the puppet. The two are now inseparable, with Scarface directing a series of criminal activities. While most believe that Wesker is simply acting out a second personality through the puppet, Wesker sees himself as a reluctant lackey who merely does his puppet's bidding.
Facts
Real Name: Arnold Wesker
Occupation: Professional Criminal
Base of Operations: Gotham City
Eyes: Blue
Hair: Brown
Height: 5 ft 7 in
Weight: 142 lb
First Appearance: Detective Comics #583 (February, 1988)
Attributes
Delusional schizophrenic with multiple personality disorder
Obsessed with his puppet, Scarface, whom he puppeteers with unsettling skill
When teamed with Scarface, the two operate as a criminal mastermind
Batman: The Telltale Series
Arnold Wesker appears in the fourth episode of Telltale's Batman series of games. He is shown as an inmate of Arkham Asylum who uses a sock pocket to represent Scarface.