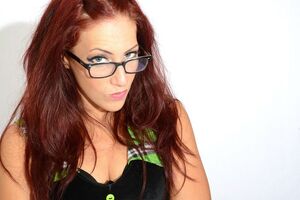 Veda Scott is a professional wrestler competing as a villainess in several promotions, including SHIMMER and Women Superstars Uncensored. She also serves as the villainous manager of Cedric Alexander in Ring of Honor.
Veda made her villainous debut for WSU at An Ultraviolent Affair in February 2013 and defeated Niya Barela for a spot on the roster. She later did double duty at that year's Uncensored Rumble, appearing at ringside in the corner of the evil Jenny Rose as she defeated Christina Von Eerie, and later teaming with Jessie Brooks in a losing effort against Annie Social and Kimber Lee. Veda and Jessie lost at Blood and Thunder to Von Eerie and Nevaeh. She would receive her first title opportunity at United in July 2014, but she and Rick Cataldo failed to capture the WSU Tag Team Championship from Annie and Kimber.
Before debuting for WSU, Veda began competing at SHIMMER as a babyface in 2011. However, in April 2014, Veda became a villainess while teaming with Leva Bates against Saraya Knight and Rhia O'Reilly. The pair teamed together even after Leva defeated Veda at the SHIMMER 62 IPPV, and they lost to The Kimber Bombs at SHIMMER 63 after a miscue by Leva. During their match at SHIMMER 64, Veda became tired of Leva's fan friendly antics and abandoned her, allowing Rhia and Saraya to win. SHIMMER 65 began with Veda explaining her heel turn by delivering an "apology" to herself, stating that she shouldn't have been concerned with pleasing fans and even accused Leva of abandoning her. After her promo, the evil Veda defeated Leva in cheating fashion (grabbing Leva's tights). In a later event, Veda faked an injury in a match against Courtney Rush en route to defeating her. Veda also provides commentary with Dave Prazak on SHIMMER DVDs, originally as a babyface, but has since served as a heel commentator after becoming a villainess
Veda and Leva faced each other again in WSU's Spirit Championship Tournament at Power on May 8, 2015. It was a first round match that was won by Leva, who won the tournament at Control. At Control, Veda was defeated by Solo Darling.
Regarding her heel role, Veda is a constant rule breaker and trash talker. She also displays arrogance and is and opportunist as well.