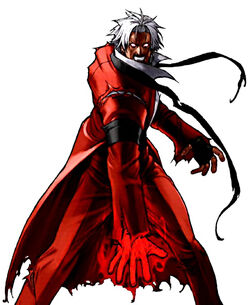 Ultimate Rugal (also called God Rugal) is one of the two possible final bosses from Capcom Vs. SNK 2: Millionaire Fighting 2001, the other being Shin Akuma.
If the player meets the requirements, after defeating all teams a cutscene will follow, showing Rugal Bernstein confronting Akuma on a rooftop. Rugal will emerge victorious and absorb Akuma's Satsui no Hadou, combining with his own Orochi power to become Ultimate Rugal, at which point the player has to fight him. After being defeated, Rugal gets overwhelmed by his immense power, ending somehow possessed by Akuma.
Ultimate Rugal gets a severe boost in both strength and speed, which combined with his high priority moves make him a very challenging final boss. Though his moveset remains mostly unchanged, he gets access to a teleport move and the Raging Demon, Akuma's signature hyper.
Ad blocker interference detected!
Wikia is a free-to-use site that makes money from advertising. We have a modified experience for viewers using ad blockers

Wikia is not accessible if you've made further modifications. Remove the custom ad blocker rule(s) and the page will load as expected.