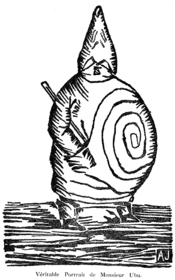 Ubu (also known as Ubu Roi) is the central protagonist and anti-hero of Alfred Jarry's Ubu trilogy of stage plays. He is described as fat, ugly, vulgar, gluttonous, grandiose, dishonest, stupid, jejune, voracious, cruel, cowardly and evil—who grew out of schoolboy legends about the imaginary life of a hated teacher who had been at one point a slave on a Turkish Galley, at another frozen in ice in Norway and at one more the King of Poland. Ubu Roi follows and explores his political, martial and felonious exploits, offering parodic adaptations of situations and plot-lines from Shakespearean drama, including Macbeth, Hamlet and Richard III: like Macbeth, Ubu—on the urging of his wife—murders the king who helped him and usurps his throne, and is in turn defeated and killed by his son; Jarry also adapts the ghost of the dead king and Fortinbras's revolt from Hamlet, Buckingham's refusal of reward for assisting a usurpation from Richard III and The Winter's Tale 's bear.
Ad blocker interference detected!
Wikia is a free-to-use site that makes money from advertising. We have a modified experience for viewers using ad blockers

Wikia is not accessible if you've made further modifications. Remove the custom ad blocker rule(s) and the page will load as expected.