This article's content is marked as Mature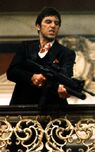 The page Tyrone King contains mature content that may include coarse language, sexual references, and/or graphic violent images which may be disturbing to some. Mature pages are recommended for those who are 18 years of age and older.
If you are 18 years or older or are comfortable with graphic material, you are free to view this page. Otherwise, you should close this page and
view another page
.
Tyrone King
is the main antagonist of the video games, 
Dead Rising 2
and
Dead Rising 2: Off the Record
.
Biography
He is first seen hosting a controversial show called Terror Is Reality (TIR for short) along with the Bailey Twins. This show is about fighting against a horde of zombies for money. Chuck Greene, the protagonist, joins the show only to get Zombrex for his daughter, Katey.
Tyrone King takes advantage of the situation when Phenotrans starts a zombie outbreak and frames Chuck for the incident, robbing the city of its money. He encounters him in a train, but he escapes. Later on, he tries to escape by helicopter with the money, but Chuck was able to stop him.
Later, when zombies get into the safe house, TK is bitten and Chuck must give him Zombrex.
Later, he manages to free himself, and he kidnaps Katey and Stacey and forces Chuck to give him what he wants. However, TK knocks him out and tries to get the two eaten by the zombies. Chuck fights him and when Chuck thought he won, TK grabs Chuck and says the line of Terror is Reality and gets thrown over the rail by Chuck, with Chuck finishing the line by saying "...Win big". Tyrone falls to his death, and the zombie horde immediately starts feeding on his corpse.
Trivia
Tyrone King is very similar towards the Black Baron.

They both are African-Americans.
They both are hosts of a TV Shows that involve killing in a variety of ways (King is the host of TIR, while Black Baron hosts the Bloodbath Challenges).
They partnered with a female co-host(s) (TK with the Bailey Twins, while Black Baron is with Mathilda).
They are both pimps.
They both wear extravagant clothing
And they are the final boss in their respective games.

He is also similar to Chris McLean from Total Drama; they are sadistic television hosts who show little to no concern for their victims' suffering, as long as they get ratings and money.
Ad blocker interference detected!
Wikia is a free-to-use site that makes money from advertising. We have a modified experience for viewers using ad blockers

Wikia is not accessible if you've made further modifications. Remove the custom ad blocker rule(s) and the page will load as expected.