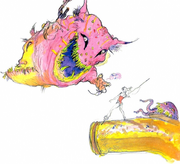 | | | |
| --- | --- | --- |
| " | I was drowsing the other day when Mr. Chupon gnawed on my head! He needed something to polish his teeth on! | " |
| | ~ Ultros | |
Typhon (Originally known as Chupon) is a minor villain from Final Fantasy VI. The best friend of Ultros, this weird monster has a constant cold. He attacks the Returners on their airship, when they try to reach the Floating Continent, along with Ultros. His signature attack, Snort, blows away a party member for the rest of the battle. As Ultros is defeated, Typhon sneezes, blowing everyone out of the ship. After the end of the world, Typhon goes along with Ultros to the Dragon's Neck Colosseum, where he appears whenever a useless item is put on bet. Though originary from Final Fantasy VI, he has other appearances in the series like the FFI remakes, FFXIII-2 and Theatrhythm: Final Fantasy.
Ad blocker interference detected!
Wikia is a free-to-use site that makes money from advertising. We have a modified experience for viewers using ad blockers

Wikia is not accessible if you've made further modifications. Remove the custom ad blocker rule(s) and the page will load as expected.