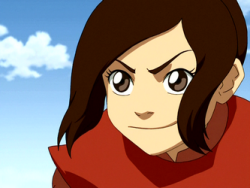 | | | |
| --- | --- | --- |
| " | At least I'm different now. 'Circus freak' is a compliment! | " |
| | ~ Ty Lee to Zuko. | |
Ty Lee is a 14 year old girl and she was the athletic member of Azula's team, once called "Circus Freak."
Ty Lee was Azula's best friend, and she's still Mai's best friend. She's always in a cheery if not over-cheery mood. It turns out she has 6 identical sisters. Before she joined Azula's team, she was working in the circus because she was afraid that she would have to deal with being with 6 other sisters that looked exactly like her, and not being able to be her own person. Unlike Mai, she doesn't use any weaponry, she uses her fists and chi-blocking. When Mai double-crossed Azula, Azula almost attacked Mai, but Ty Lee used her chi-blocking on Azula. She ended up getting arrested. Azula told the guards to take Mai and her out of her sight and to let them rot. Ty Lee and Mai were imprisoned with the Kyoshi Warriors where Ty Lee shared her chi blocking skills with the Kyoshi warriors and eventually befriended them. After Aang defeated Fire Lord Ozai and Azula was defeated by Zuko and Katara, Zuko became the new Fire Lord and released Ty Lee, the Kyoshi Warriors, and Mai from prison. After her release from prison, Ty Lee met with Suki who made her a new Kyoshi Warrior. Ty Lee later attended Zuko's coronation, where she met up with Sokka, Suki's boyfriend, who was confused as he believed Ty Lee was disguising as a Kyoshi Warrior until Suki told him otherwise.
Gallery