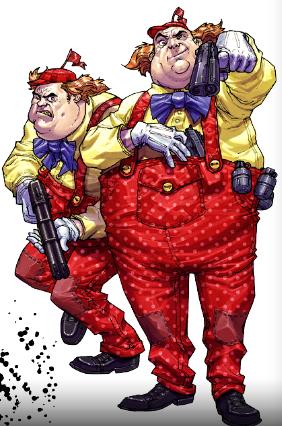 Deever and Dumfree Tweed (a.k.a. Tweedledum and Tweedledee) are two villains from the Batman series. They are identical cousins, but they are often passed as identical twins. Much like the Mad Hatter, they are both overly obsessed with the book; Alice in Wonderland. They always work together, whatever they do.
Batman: Arkham Asylum
Tweedledum and Tweedledee don't appear in the game Batman: Arkham Asylum. One of the Riddler's riddles revolves around them. They have an entry in the Character Bios. Their profile states: Cousins with an uncanny resemblance to each other, Deever and Dumfree Tweed both shared criminal leanings and a fixation on Lewis Carrol's Alice in Wonderland. Teaming up, they've modeled themselves after Tweedledum and Tweedledee from that book, planning often outrageous, absurdist schemes to trap the Batman.
Later, in the tie-in comics of Arkham Knight, it is implied that they were killed by Arkham Knight for their failure.
Batman the Brave and the Bold
The duo first appears in the episode Night of Huntress as part of Baby Face's gang. When the gang raids warehouse X they steal two identical mini attack helicopters which they use to attack Huntress but are defeated by Blue Beetle with the rest of the gang. They later make cameos in the episodes Legends of the Dark Mite and Mayhem of the Music Meister.
Gotham
The Tweedle brothers will appear in the third season of the television series Gotham.
Facts
Real Name: Deever and Dumfree Tweed
Occupation: Professional Criminals
Base of Operations: Gotham City
First Appearance: Detective Comics #74 (April, 1943)
Attributes
Obsession with Alice in Wonderland
Skilled criminal masterminds
Despite being cousins, could pass as identical twins