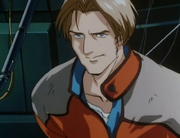 The real
Trowa Barton
was the son of
Dekim Barton
. He was originally intended pilot of the XXXG-01H Gundam Heavyarms but was shot and killed by a mechanic working on the Gundam who feared for his family on Earth in the impending devastation that would be Operation Meteor. At the boy's request and to cover up the murder, Doktor S allowed a young mechanic calling himself 'No Name' to take Trowa's name, his Gundam and descend to Earth to carry out a modified Operation Meteor.
Ad blocker interference detected!
Wikia is a free-to-use site that makes money from advertising. We have a modified experience for viewers using ad blockers

Wikia is not accessible if you've made further modifications. Remove the custom ad blocker rule(s) and the page will load as expected.