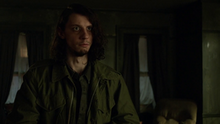 Trope is the hidden main antagonist of the "Red Hood" episode of the Gotham TV series.
Biography
Robberies
Trope assisted Clyde Destro, Gus Floyd, Haskins and Regan in robbing several banks. He witnessed Floyd's death by Destro who stole the red hood from Floyd. After a robbery, Trope shot Clyde and stole the hood for himself. He led Haskins and Regan in the final robbery, but the police arrived just in time. Trope decided not to surrender, and Haskins was shot dead. After this, Trope and Regan rushed to a van while shooting at the cops. Regan was shot several times and died when entering the van. Trope's bullets ended, and he picked a revolver. Before he kill someone, Trope was shot dead countless times. Jim Gordon took his mask, revealing Trope's face, his mouth was bleeding because of the shots.
Ad blocker interference detected!
Wikia is a free-to-use site that makes money from advertising. We have a modified experience for viewers using ad blockers

Wikia is not accessible if you've made further modifications. Remove the custom ad blocker rule(s) and the page will load as expected.