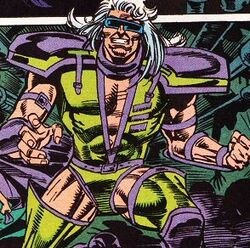 The Troll is a villain in the Marvel Comics and an enemy of Ghost Rider.
History
The Troll's real name is Unknown. He was once an ordinary man. Until Deathwatch granted him mystical abilities. Because of this, he, along with his associate The Hag, have an unsatisfied appetite for the life force of human beings. Deathwatch first called upon Troll and the Hag to aid him in his battle against Ghost Rider. Though Deathwatch did not survive the encounter, Troll and Hag did, and they worked their best to return him to the Deathspawn and bring him back to life
Ad blocker interference detected!
Wikia is a free-to-use site that makes money from advertising. We have a modified experience for viewers using ad blockers

Wikia is not accessible if you've made further modifications. Remove the custom ad blocker rule(s) and the page will load as expected.