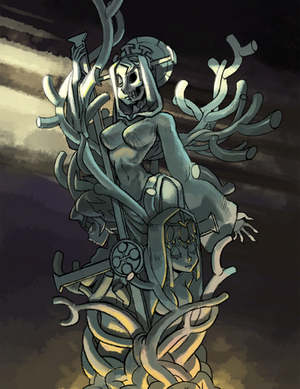 The Trinity are major antagonists from Skullgirls. They are revered as goddesses during the present time, but they are the ones who created the Skull Heart, whose existence plagues the world. Their objective and motivations remains a mystery. Though the Skull Heart claims it's purpose is to bring the world's destruction, it is not exactly known what that entails.
The Trinity were originally regular human beings from a Queendom which existed in ages past. Though they were killed by Neferu during that time, they still exist on a separate dimension.
Members
The Mother: The Mother is an ancient goddess, and the apparent driving force behind the trinity.
Aeon: The youngest daughter of Lamia, Aeon bonded with the parasite Khronos, which grants her mastery over time, allowing her to watch multiple timelines (show in game as her playing the game itself) and the various threads of fate.
Venus: The oldest daughter of Lamia, Venus bonded with the parasite Abaddon, which grants her mastery over space, allowing her to tear the very fabric of the universe.
Queen Lamia / Double : The Queen of an ancient empire which was brough down by Neferu and the actual mother of Aeon and Venus. Double is her "shadow", who unquestionably follows the Trinity's will and has tracked suitable hosts for the Skull Heart for ages.